Long Term Conditions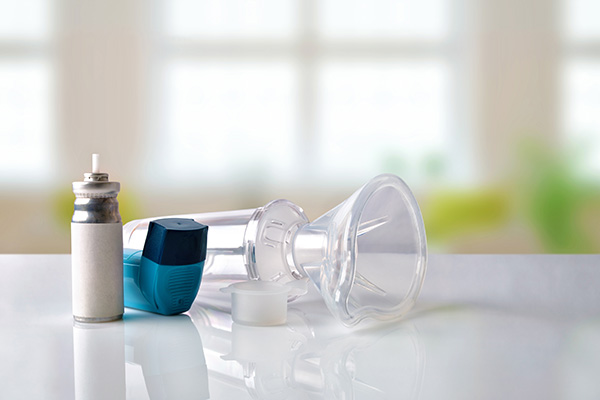 Asthma
The Practice provides a full range of services for patients with asthma. Our nurses are highly trained in this subject and run regular asthma advice and assessment sessions. Please ask the receptionists about this.
Asthma is a condition that affects the airways – the small tubes that carry air in and out of the lungs.
When a person with asthma comes into contact with something that irritates their airways (an asthma trigger), the muscles around the walls of the airways tighten so that the airways become narrower and the lining of the airways becomes inflamed and starts to swell.
Sometimes sticky mucus or phlegm builds up which can further narrow the airways. The illustration on the right shows a cross section of the airways, with and without inflammation.
All these reactions cause the airways to become narrower and irritated - making it difficult to breath and leading to symptoms of asthma.
5.4m people in the UK are currently receiving treatment for asthma.
1.1m children in the UK are currently receiving treatment for asthma.
There is a person with asthma in one in five households in the UK.
For much more information, Visit 
Heart Disease and Hypertension
The Practice has a very active programme for identifying, monitoring and treating patients with heart disease and hypertension.
The Practices follow the latest NHS guidance and have developed and are involved in the Central Croydon Clinical Governance Programme for heart disease and hypertension.
The Practices run an active recall programme to ensure that patients with heart disease are on the correct treatment and are having the recommended investigations. Please ask one of the doctors for further information
Information about blood pressure and the reasons for treating it can be found at these sites
Blood pressure from Wikipedia  (Information and definition)
Blood Pressure Association  ( Information and support for those with high blood pressure)
British Hypertension Society  (information about the medical side of BP)
Blood Pressure Monitoring  (information about blood pressure monitors)
Emergency Life Support Training
Would you know what to do in a life-threatening emergency?
Learning emergency life support skills (ELS) can help you to keep someone alive until professional help arrives. The BHF can help you to learn these skills through the Heartstart  initiative.
The Heartstart programme includes skills such as:
assessing an unconscious patient,
performing cardiopulmonary resuscitation (CPR),
dealing with choking,
serious bleeding 
helping someone that maybe having a heart attack.
Over 2.3 million people have been trained through the Heartstart initiative .
Heartstart is an initiative co-ordinated by the BHF to teach you the simple skills needed in a life-threatening emergency and could help you to save the life of someone you love. The scheme offers you practical advice and encourages you to talk about resuscitation and saving lives. 
Diabetes
The Practice follows National guidance and the recommendations of the Diabetes National Service Framework.
The Practices work closely with the Diabetic Department at Mayday Hospital, Diabetic Specialist Nurses, Dietitians, Chiropodists, the Mayday Eye Unit and others to provide a package of care to monitor diabetes, maintain health and prevent complications.
Type 1 diabetes develops if the body is unable to produce any insulin. This type of diabetes usually appears before the age of 40. It is treated by insulin injections and diet and regular exercise is recommended.
Type 2 diabetes develops when the body can still make some insulin, but not enough, or when the insulin that is produced does not work properly (known as insulin resistance). This type of diabetes usually appears in people over the age of 40, though often appears before the age of 40 in South Asian and African-Caribbean people. It is treated by diet and exercise alone or by diet, exercise and tablets or by diet, exercise and insulin injections.
The main aim of treatment of both types of diabetes is to achieve blood glucose and blood pressure levels as near to normal as possible. This, together with a healthy lifestyle, will help to improve wellbeing and protect against long-term damage to the eyes, kidneys, nerves, heart and major arteries.
Diabetes UK is the leading charity working for people with diabetes. They fund research, campaign and help people to live with the condition.
The mission of Diabetes UK is to improve the lives of people with diabetes and to work towards a future without diabetes.
About 1.4 million people in the UK have been diagnosed with diabetes. This number is set to double by 2010. Another million probably have the condition but don't know it. 
We use cookies to help provide you with the best possible online experience.
By using this site, you agree that we may store and access cookies on your device. Cookie policy. Cookie settings.
Functional Cookies
Functional Cookies are enabled by default at all times so that we can save your preferences for cookie settings and ensure site works and delivers best experience.
3rd Party Cookies
This website uses Google Analytics to collect anonymous information such as the number of visitors to the site, and the most popular pages.
Keeping this cookie enabled helps us to improve our website.